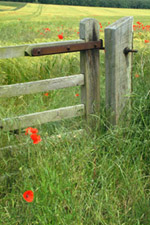 *A slight haitus ... we are off on our holidays for a few weeks, from tomorrow. 'A few' because, as usual, it's not straightforward - but this time in a pleasant way. We have a fortnight's 'official' holiday here in the Morvan, Burgundy. No phones, no internet connection, no planning, no getting up at 5.30am to go to business breakfasts.

Just the tent (with new double sleeping bag, yay!), cheap wine, walking boots and some good reading.


And then we come home, spend a day frantically washing things and leave again for a week in Southern England and Holland with The Black Maze, a touring art installation by the ever-excellent Stan's Cafe. B is actually working and I am going along for the ride.

So probably no bloggage for three weeks, unless I crack and try to find an internet cafe.

I debated asking someone else to guest - but firstly and a) I'm a control freak and it made me feel uncomfortable, rather like someone sleeping in my bed and not changing the sheets before I got back in to it; and secondly and b) the two people I had in mind to ask have rather inconsiderately gone off on holiday themselves.

I will (of course) be busy collecting material while I'm gone :). And in the meantime, if you haven't already, please do consider pottering across and visiting some of the interesting people in my links bar over there on the right.

Happy holidays!


---
*Photos from (c)FreeFoto.com